Some information to help you
choose your career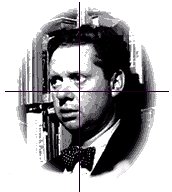 A message from our Head of Human Resources (photo courtesy KGB):
"Hello, and thank you for your interest in joining MI5. You know, it's not easy being a spy. That's why I'm in recruitment."
"To become a spy, you will have to pass a rigorous exam. Here is a sample paper from next year's GCSE espionage (E165) exam (summer 2006), which we pinched from the printers last week."
Espionage - Multiple Choice Section: Ethics
1. You have apprehended the wrong person on suspicion of being a terrorist. Do you:
a) Release them without charge, and apologise on behalf of the police force.

b) No I haven't.

c) No I haven't.
2. You find out a group of terrorists is going to steal some dynamite from a quarry. Do you:
a) Stop them as they enter the store room?

b) Stop them as they leave the store room?

c) Hide 200 policeman in the undergrowth, and hope the robbers don't trip over them and run away, thereby ruining the operation entirely.
3. An ex-agent has written a book about his time at MI5, and proves to be an interesting read. Do you:
a) Buy it the moment it comes out?

b) Wait till it comes out in paperback?

c) Steal a copy from the printers, read it, copy it, return it, and then buy it in hardback?
If you can answer these, then you may well be the type of person we are looking for. To send us some details about yourself, click here.