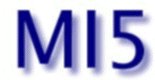 Here at MI5, we are in constant need of talented individuals who fit our profile of a loyal and committed public servant.
If you think that you fit this description, why not take a moment to fill out the form below? It is a short psychometric test, drawn up by our Human Resources Department, and includes some actual questions that we ask our field operatives before they commence their service.
When you click the "Send to MI5" button at the end of the form, the contents will be sent to us here at MI5, for our careful consideration.