Entertainment


There are many events and places of interest in Bracknell. Of particular interest is the 'Ball Fountain', adjacent to MacDonalds: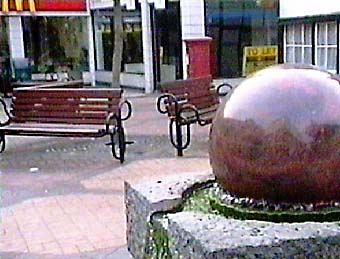 The Ball Fountain. (Picture by Phil B, Bracknell enthusiast).


"People often stand around in groups of two or three, and touch the ball while smiling. The males tend to be interested in how the ball moves, while it is the female's role to prevent their offspring's fingers being ripped off by the enormous globe. It is not certain why the males smile when touching the ball - further research is necessary here." (Morton, S - New Town Anthropology Quarterly, 1994).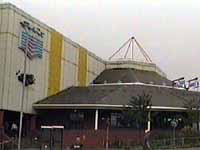 Bracknell is not short of night life either. Near the Ball Fountain is 'The Point' leisure complex. Here, under one roof, one can find a Bowling Alley, a ten screen cinema, two nightclubs ('Stabbings' and 'Toxins'), and a casualty unit. Thus, it is possible to go bowling, see the latest film, get stabbed, and have a blood transfusion all in the same evening. This is a popular pastime with the youth of Bracknell.


Sport

If you are into sport, then you may just find that Bracknell is the place to be. The town football team is one of the top football teams in East Bracknell. There is a winter sports complex where, for a small fee, you can break your leg on a dry ski slope, or amputate a finger or two ice skating.

Running away from muggers is also extremely popular, as is traversing roundabouts.


Newspapers

Bracknell is honoured to have some of the worst newspapers in existence today. The only way to appreciate them is to actually read one. The oxymoronically titled "Bracknell News" is particularly recommended, as is the Bracknell Harbinger.


Culture

Bracknell has two oases of culture. One is South Hill Park Arts Centre, which is extremely popular with the people of Ascot, Wokingham, Reading, Guildford, Newbury and London. Every year it puts on a weekend music festival, which provides many local residents with the chance to complain about noise, interesting people, things happening after 9pm, etc.

Another good thing is the Kohinoor Indian Restaurant in Priestwood. It does terrific food, and the staff are incredibly friendly.

It is not clear why these two things are in Bracknell.

Some very nice people have been spotted in Bracknell too. Again, the reasons for them being there are not clear.